It seems like just yesterday I was writing last week's #H54F post. This week went by unusually fast. I'm also amazed by the fact that Easter is only TWO weeks away. Where did winter go?
Is this what happens after college? Your life shifts into high gear and time just flies?
As always, we are linking up with Lauren over at
From My Grey Desk!
Here are my top five from
yesterday
this week.
1.
Spring Fling is MONDAY. For all you newbies: Spring Fling is a Link party I am hosting with 6 other bloggers. The theme? Spring! Monday, when you link up with my blog, your link will appear on all 7! Click
here
for more info!
Don't forget a button!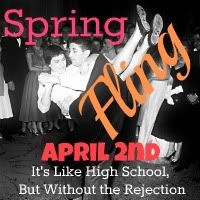 2.
Checkout this Smashbox primer kit I found at
Ulta
:
It includes a foundation primer, eyelid primer, and a lash primer...$14 ladies! (Have you tried using a primer? It's made a huge difference in the lifespan of my daily makeup. I highly recommend it.)
3.
I finally got my iPad case in the mail! I can't stop staring at it! It's my new favorite accessory!
4.
I'm co-hosting a garage sale tomorrow with two of my friends. I have mixed feelings about garage sales, I feel like all my stuff is too nice to be sold for 50 cents. I know I've overpriced everything but I just can't bring myself to sell a coach purse for $5. However, it should be fun hanging out with the girls over mimosas.
Source
(actually a great source for garage sale tips!)
5.
I finally got the cat eye sunglasses I've been eyeing over at
Windsor
(as seen on
The Day Book
!) They make me feel so trendy (and for only $8)!
Have a good weekend!