It's here!! It's here!! Find some love fest!! (super huge link party that I am so excited about!)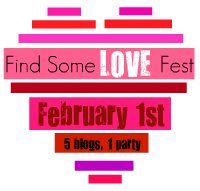 Here it is ladies:
A Single Girl's Valentine's Day
I know I've mentioned over and over again that I'm single, so it shouldn't come as a surprise to you that Valentine's Day hasn't always been my favorite holiday.
Before you hit the red X on the top right hand corner of your screen, let me say this is NOT an "I hate Valentine's Day" post, nor is it a "poor poor pitiful me" post.
There's no hiding the fact that if you're single on Valentine's Day, there's a small sting that pokes at you every time you see heart shaped boxes, mushy couples on romantic dates and gorgeous men carrying a bouquet of red roses.
It's the same small sting you get when you see yet another one of your friends is engaged. The same sting you feel when you spot a super hot guy who is the spitting image of prince charming… only to find out he has a girlfriend. The same sting you feel when all your friends have babies and seem to have this "mom bond" that you can't be a part of.
But when I sit down and really think about it, I've probably only had a "Valentine" 3 out of the 23 years I've been alive. So why do I spend so much time dreading February 14th? I always survive with my ego intact. This year won't be any different…Well except for one small detail.
I am going to enjoy Valentine's Day… Celebrating…wait for it...being single!
That's right! I enjoy being single, I like having time to myself, I like being able to spend my money however I want without asking my husband, I like flirting with gorgeous men, I like being able to go anywhere (
Dallas
,
Ardmore
,
Edmond
) without worrying about someone else and I like being independent…
That doesn't mean I don't want to settle down with a family one day, but let's face it, I'm 23…I will only be this young ONCE!
I would rather spend the next 10 Valentine Days alone, if it means spending the next 50 with my soul mate.
The number one reason I'm single (and don't date very often) is that I don't want to waste my time with someone that I know I couldn't be with long term. I'm not looking for a husband but I'm not going to stay with someone who doesn't make me happy just so I can have a +2, or a Valentine, or a New Year's kiss at midnight.
So with that being said, lets (and by "lets" I mean all you single gals out there) do something for ourselves this Valentine's Day!
Let's make plans:
The weekend before Valentine's Day I'm going to Tulsa! My sister and I will be fixing my jewelry box disaster I wrote about
here
. Also, we will be seeing
The Vow
.
Let's get pampered:
I will be getting a mani/pedi and cashing in a gift card for a facial. Who needs a man to rub our feet when a professional can do it?

Let's wear something fabulous:
or something casual:

This sweater is from Old Navy y'all! OLD NAVY!
Source

Let's eat something sinful!

Fried pickles? yes, I think I will.
source
 And of course, let's buy ourselves some of these:
Yes, I think this might just be the best Valentine's Day yet!